Crush conformity process time & costs
Utilize advanced organization for quick historical views and searches on all FAA forms, major mods/inspections, parts status and much more.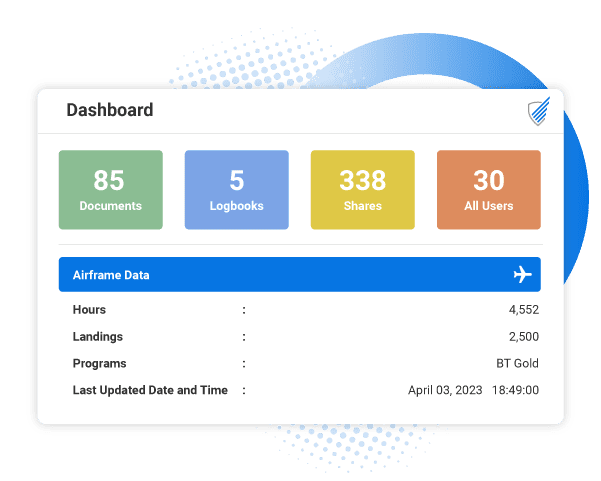 No more "box diving" with paper records to find something. Your Bluetail registry is a single source of truth for one aircraft or a fleet that includes FAA form auto-tagging. With a unified, organized registry (logbooks and folders), everyone always knows where to find the information they need, when they need it.
Effectively arrange and oversee all aircraft within your fleet while granting individual access control and permissions to team members based on specific aircraft types.
UP TO 50% IN TIME SAVINGS
Easily share records or logbooks to pilots, MROs, owners and collaborators with secure sharing links. You retain control and oversight, while ensuring everyone has on-demand access to the information they need.
Beware of Consumer Storage Apps:
Learn Why Bluetail is Better
MACH 2 Search helps you save hours and days from the old way of sifting through paper. Get the right answers to stakeholders, shorten records research time before starting work and crush aircraft conformity process time.
Pricing made to match your needs.
Bluetail's onsite or local scanning services allow our customers to get all of their aircraft records digitized, organized and secured in a manner that is safe, timely and efficient.
Built on a foundation of trust
Trust Bluetail to safeguard aircraft records data and meet your compliance requirements……
Start improving your aircraft records management today!