Available professional service options
Bluetail's professional services are designed to help you during every step of your journey. We offer a suite of ongoing records management, training, and technical services so you can maximize your experience with Bluetail.
Don't have bandwidth to keep records updated? Our Bluetail customer success team will take on that role and scan, upload and organize your records on a monthly basis. 
Learn best practices and app features to get the most out of the Bluetail app. Our App expert will conduct a 2-hour remote training session for you and your team.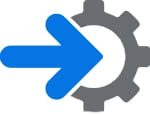 Work with our dedicated technical team to achieve building an API integration with your application to accomplish a true back-to-birth records history.
Need a specific service or feature?